WE LOVE OUR TRAVEL ADVISORS!
Make the most of your guest's stay by including our trolley tour as one of your first activities?
Upon arrival, guests will be provided with a coupon book featuring exclusive discounts at local restaurants, gift shops, tours, and attractions – a valuable resource they'll surely appreciate.
Throughout their stay, guests will have the opportunity to forge a lasting connection with a knowledgeable local guide who is readily available to address any questions, needs, or special requests while exploring Anchorage.
Our enthusiastic guides take great pride in sharing their personal insights and passion for Anchorage with each visitor.
At Anchorage Trolley Tours, our mission is to ensure that every guest enjoys the most exceptional experience possible during their time in Anchorage.
INFORMATION FOR TRAVEL AGENTS
Planning a visit to Anchorage, Alaska? Fantastic! We invite you to embark on a delightful Trolley Tour, where you and your guests can create cherished memories while exploring the city's highlights. Transform a solo trip into a lively celebration by bringing a friend along – we promise to keep it a secret from your boss! After all, studies have shown that happiness leads to productivity.
Don't hesitate – get in touch with us today, whether you're already in town or en route. We'll provide you with a complimentary ticket or a buy-one-get-one offer for you and a friend. Bringing the whole family? No problem! Simply send us an email, and we'll take care of the rest.
COMPLIMENTARY COUPON BOOK
As a special treat for our guests, every ticket purchase includes a complimentary savings guide filled with exclusive coupons to 40 local businesses – all conveniently situated within walking distance of our trolley stop. These coupons boast savings worth hundreds of dollars, affording visitors the opportunity to explore Anchorage to the fullest.
Beyond the tour, our savings guide is a valuable resource for those looking to venture off the beaten path and discover the city's hidden gems. With our guide in hand, guests can confidently navigate Anchorage while taking advantage of unbeatable discounts at some of the area's most beloved restaurants, shops, and attractions.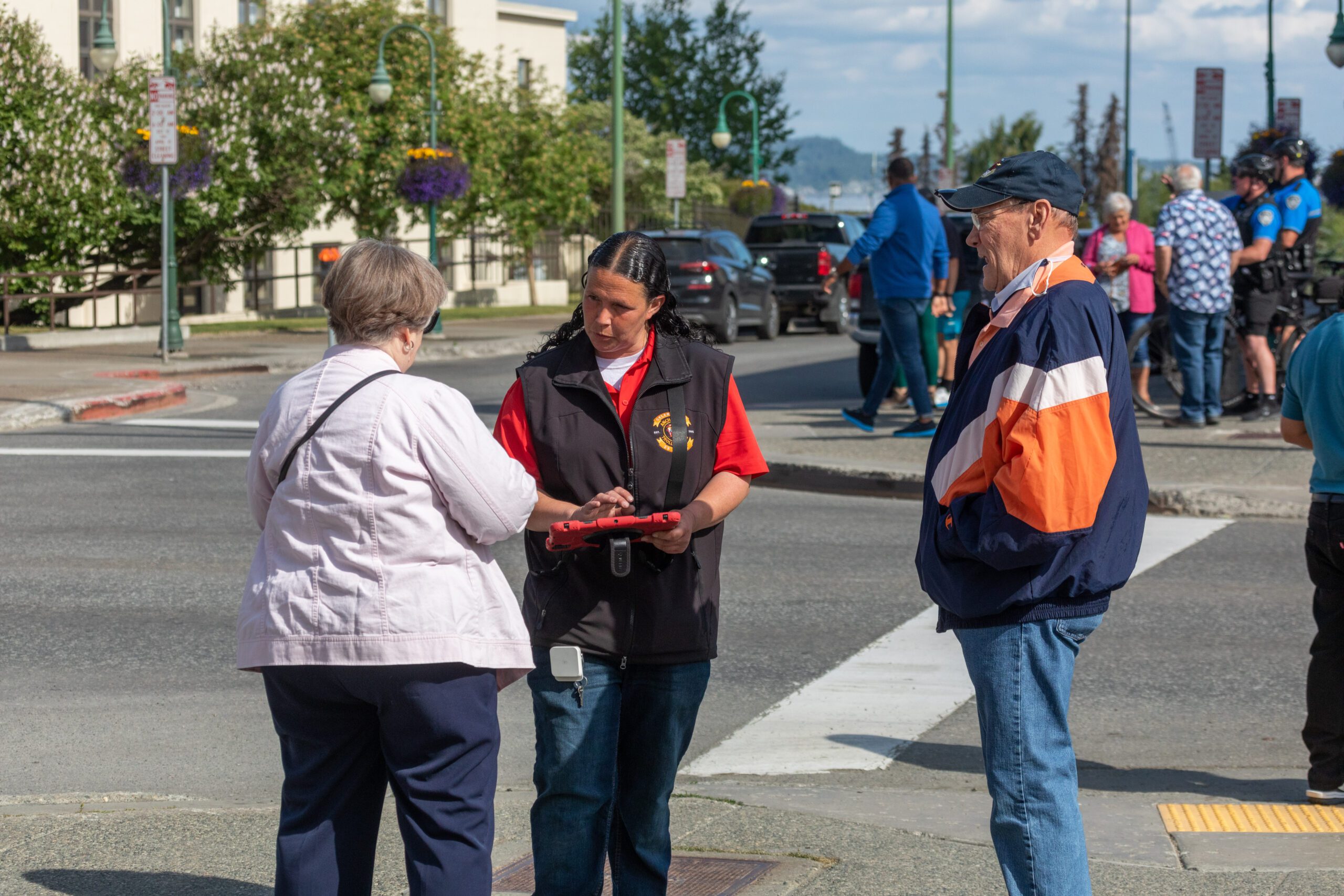 At Anchorage Trolley, we understand that vacation plans can be unpredictable, which is why we offer an "anytime" ticket option for our one-hour tour. Guests can walk up at any time and join a tour, provided there are available seats.
Our tours depart every half-hour, so if your guests happen to miss or need to adjust their reservation, you can count on us to honor their ticket without any additional cost or hassle. At Anchorage Trolley, we believe that it's our privilege to be a part of your guests' vacation experience, and we're committed to providing exceptional service every step of the way.
Our Alaskan guides will share history and family stories while exploring Anchorage's past and present. From the most riveting moments of yesterday, all the way up to present-day living in Anchorage, our guides are knowledgeable and entertaining. Check out this clip of one of our drivers having fun with our guests. It's not just a tour, it's an experience!
At Anchorage Trolley Tours, we deeply value every guest you send to Alaska. We understand that you've worked tirelessly to earn their business and trust, and we want you to know that we appreciate your efforts to ensure that they have a truly unforgettable experience.
We take great pride in our partnerships with travel agents, and believe that offering above-standard commission rates is a testament to our commitment to your success. In today's economic climate, every dollar counts, and we recognize the importance of maximizing returns for our valued partners.
Rest assured that every guest you send our way matters, and we will go above and beyond to exceed their expectations while showcasing all that Anchorage has to offer.
Are you expecting a group of any size, from 8 to 800, visiting Anchorage? Rest assured, we are well-equipped to accommodate!
We offer two convenient options for your guests' enjoyment. The first option is to host them all on the same departure time, either on one trolley or on a few, ensuring a cohesive and enjoyable experience for everyone in the group.
Alternatively, you can email us your guests' names, and we will check them in as they arrive. We'll then place them on the soonest available departure time, which typically takes less than 20 minutes – just enough time for guests to browse our coupon book or use the restroom.
Whichever option works best for your itinerary, we're confident that your guests will have a wonderful time exploring Anchorage with us. At Anchorage Trolley, we're committed to delivering exceptional service and creating unforgettable moments for every guest!